The important thing is to protect the ruins and the surrounding landscape and environment together with Asian people. To achieve this, it is the realization of a sustainable society that is free from poverty, economic independence, and a safe and healthy life. We will promote the help one by one from what we can do now.


①Activities to foster beautiful forests in the Preah Vihear Eco Village area of the Kingdom of Cambodia
<Toyota Environmental Activity Grant Program (2019 grant project)>
●2020 January-December
Through this project, we aim to develop the eco-village area as a place for preserving the World Heritage, as well as to develop local communities and establish environmental conservation ideas. Aiming to create a community that contributes to the conservation and preservation of world cultural heritage as well as experiencing the importance of regional collaboration through forest maintenance and environmental protection activities. We will report on local activities every month.
②Preserving the natural environment around the ruins (planting trees, planting trees, flowers, herb gardens, creating beautiful forests)
<Public Interest Incorporated Association National Land Afforestation Promotion Organization "Green Fundraising" Public Offering Project>
●2012 July-2019 June
We are continuing tree planting activities around the Eco Park. Especially "fruit trees" and "flower trees" We are promoting tree planting and greening the village. In order to increase the survival rate of planted trees, we are also constructing a well drilling and water supply system for the dry season.
③Human resource education for local residents, agriculture-rural development support (pilot farm, pesticide-free agriculture training)
<Tokyo Club Cultural Activity Grant Project>


The local village (eco-village) is being created locally with the Cambodian people. The first task is to organize the community and create leaders.

③ Educational support for children who will be future leaders
<World cultural heritage and environmental education>
We begin by entrusting children with the mission of understanding, protecting, and raising their cultural heritage, the surrounding natural environment, and the symbiosis of local residents.
A:Conducting lifestyle education such as cleanliness and tidyness in school life at elementary school Distributing teaching materials, cleaning the school, installing slogan signs, constructing garbage sorting huts, gardening activities, etc.
B:Elementary school students holding a Sketch competition at world heritage temples site, and distributing leaflets of protect the world heritage and the forest
C:In February 2016, the 12th PVAJ Student Team dispatched with local elementary school students to beautify the area around the West Bayra, main roads, and elementary schools, and received a warm welcome from local residents.
④ International human and cultural exchanges with people from various Asian countries


The student team is working with students from Japan, Cambodia, Vietnam, and Thailand in Preah Vihear to prepare for an international student conference on the theme of Preah Vihear and Mekong Regional Development.

⑤ Ecotourism
<Regional leader training program>
We plan a program that introduces simple accommodations such as Japanese farmhouses and British B & Bs to Preah Vihear people and learns how to operate them. This program was approved by the "Expo 2005 Aichi Japan, Achievement Subsidy Program" from the "Global Industrial and Social Progress Research Institute(GISPRI)" and received a grant. From this year, a regional leader training program has started.
⑥ Public relations activities to spread this World Heritage site and project to the world and call for participation in activities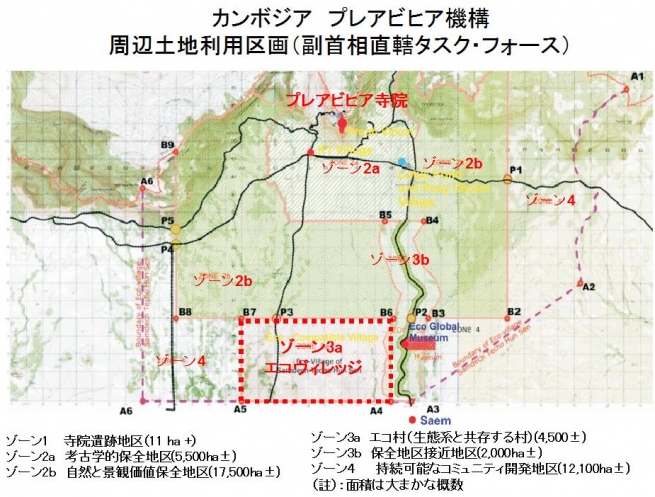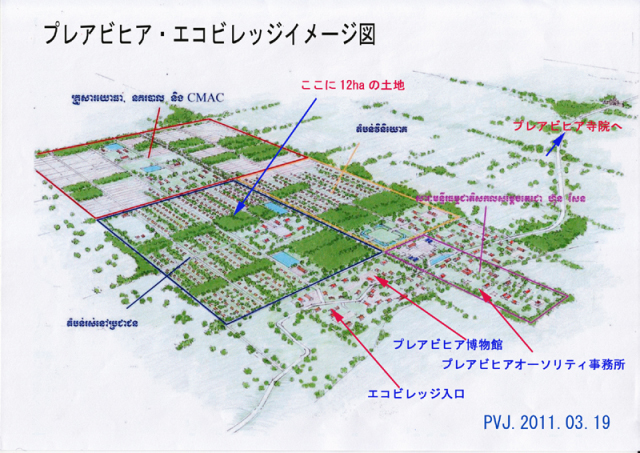 ※We leased 12ha (36,300 tsubo) of land to Preah Vihear Eco Village permanently from the government. This association will play a central role in gathering NPOs and NGOs from all over the world in this place as a base for eco-village support.